Replica of philanthropist's schooner visits Jersey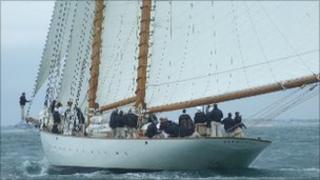 A replica of a yacht owned by a Jersey-born philanthropist is in St Helier.
The 160ft (49m) long schooner, Eleonora, is modelled on Thomas Davis's boat Westward which he raced at Cowes between 1925 and 1935.
The modern schooner, which recently raced in Cowes' Westward Cup centenary regatta, was met in Jersey by the Howard D lifeboat donated by Mr Davis.
The philanthropist, born in St Helier in 1867, gave numerous gifts to Jersey and named them after his son, Howard.
As well as donating Howard Davis Farm - now the States Farm - to Jersey, he also gifted Howard Davis Hall at Victoria College to the island and the Howard Davis Park which features a flagstaff made out of one of Westward's spinnaker booms.
Although it will not be possible to board the replica schooner Eleonora during her stay in Jersey, islanders and tourists will be able to view her at close quarters from the quay side on the Albert Pier on Thursday as a spectator area will be set up.
Eleonora is due to leave Jersey on Friday.