Jersey housing tenants fear cost of new heating system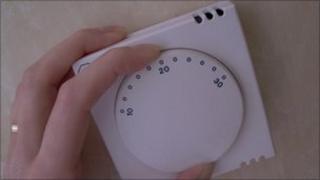 Concerns about a new heating system on a Jersey estate are being discussed with the island's housing minister.
It follows a petition presented to Deputy Sean Power on behalf of elderly residents of the States-owned properties at Le Clos Gosset.
They are worried about how much the heating will cost them and the possible effects on their health.
Deputy Jeremy Macon and Le Clos Gosset resident Lisa Cantrell will meet the minister later.
Ms Cantrell said a new electric heating system to replace the current oil-fired system appears to have been chosen by the States without any consultation with the residents.
'Lung disease'
The 59-year-old former nurse told BBC News: "There's been no consultation at all.
"We've got a lot of really elderly people living here and they need instant heat at time, so storage heaters would be no good. Mind you, at the moment we don't even know what's planned.
"Some of our residents have chronic lung disease and dry electric heat is the worst form of heating for them.
"It's also one of the most expensive."
Ms Cantrell said as new boilers were recently installed, residents would prefer to have the option of having individual oil tanks for each block of four properties.
The minister is considering his response.