Jersey's interim hospital chief's salary defended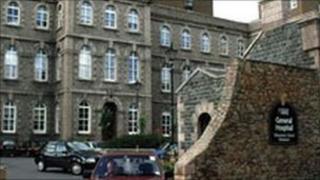 Jersey's health minister has said the cost of employing an interim managing director at the island's General Hospital's is "money well spent".
Andrew McLaughlin, who was hired in May on a six-month contract, is being paid £4,600 a week.
Deputy Anne Pryke said Mr McLaughlin was an excellent choice for the specialist role.
The total cost to taxpayers of employing him, including agency fees, is more than £5,000 per week.
Mr McLaughlin pays for his own accommodation and travel.
Structure 'strengthened'
Management changes were called for earlier this year in a report into the death of 49-year-old Elizabeth Rourke following a routine operation in October 2006.
The independent report said systems at the General Hospital were a contributory factor in Mrs Rourke's death.
A great deal of consideration was given to the question of taking on an interim MD, the minister said and the decision taken it would be the only quick way for the hospital to deliver change rapidly.
She said Mr McLaughlin's appointment had strengthened the current management structure at the hospital.