Jersey weather forecast petition starts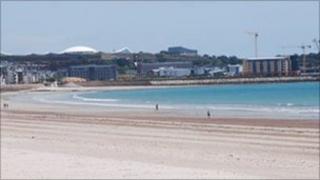 A petition against "weather forecast discrimination" has been started by Jersey's tourism department.
The Putting Jersey on the Weather Map petition has so far collected 1025 signatures since it started in June.
The tourism department said the petition was started after it felt forecasting was not accurate enough on UK broadcasts and might deter visitors.
In response to the petition, the BBC said: "The Channel Islands are clearly visible on the UK wide weather map".
David de Carteret, Jersey's Tourism director, said: "It's not intended to be a criticism of the media it's got more to do with representing Jersey properly.
Accurate reporting
"The whole issue of weather is so important to people at this time of year that I think we've got to make sure that there is a focus on the true temperatures."
Mr de Carteret said he had monitored media outlets throughout July and found that temperatures were forecast to be between two and five degrees under the actual temperature.
He said: "I don't think they [media outlets] have any obligation to help us market [the island], but I think they do have an obligation to be accurate in the information they're supplying to the audience."
The tourism department said that it would send the petition complete with signatures and comments to various media outlets, including the BBC.
In a statement, the BBC said: "The Channel Islands are clearly visible on the UK wide weather map used in all Network BBC Weather forecasts and when the weather is significant we do have the option to zoom into the Channel Islands as we sweep across the map.
"Temperature indicators are regularly added to the wide UK map for the Channel Islands on TV forecasts."