Work on Jersey's St Aubin Harbour structures to start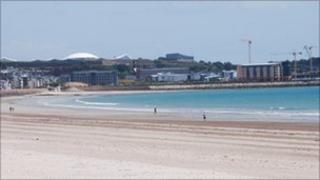 Stabilisation work is to start next month on the north and south piers of St Aubin Harbour and the breakwater at St Aubin's Fort.
Jersey States said the structures were at risk of collapse as a result of centuries of damage destabilising them.
Holes are to be drilled in the masonry to insert piles which will "stitch" the structures together and anchor them into the bedrock of the seabed.
The work is expected cost £1.2m and take 45 weeks to complete.
St Aubin was the main port of the Jersey's commercial trade from the 17th to the early 19th century.
The piers, which are proposed Sites of Special Interest, date from the 1760s with additions completed up to 1819.
Work first began on the breakwater at St Aubin's Fort in the 1680s.
Ray Hine, Jersey Harbours Technical Services Manager, said: "The stabilisation works will ensure that St Aubin Harbour and the Fort remain safe for future generations to enjoy.
"Once the works are complete, careful dredging will be undertaken to achieve the optimum depth of water in the harbour."