Pay agreement removes Jersey teachers' strike threat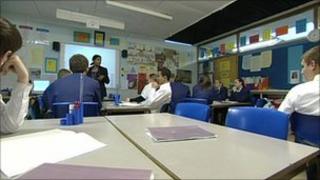 The threat of a strike by teachers in Jersey has been removed after an agreement was reached.
Teaching unions were considering industrial action over pay and working conditions.
However, following lengthy detailed negotiations between the States Employment Board and NUT and NASUWT representatives an agreement was secured.
It includes a 2% pay increase for this year and the same next year.
The dispute had been sparked by a public sector pay freeze.
'Hard work'
Other issues agreed include teachers being given 10% "protected" time for planning, preparation and assessment. They will not have to supervise lunch breaks nor carry out certain clerical duties.
The States maternity leave policy will be revised to protect the contractual entitlements of mothers when they return to work and a joint review will be undertaken to develop a policy on maximum classes.
Christine Blower from the NUT said: "All parties at the negotiating table have had to work hard to settle this dispute."
She said the measures agreed valued the professionalism of teachers and supported their commitment to delivering the highest standards of education for children and young people in Jersey.
Education Director Mario Lundy said: "'It was desirable for a settlement to be agreed before the beginning of the new school year and I am pleased that we have been able to achieve that.
The agreement would update teachers working conditions in a way that would positively impact students, he added.