Funding for new Jersey Opera House performance space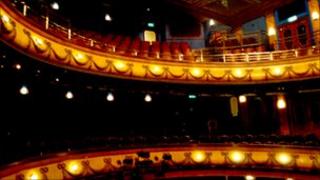 Jersey Opera House is to be given States funding for a new performance and rehearsal studio.
Treasury and Resources has agreed to allocate £112,000 so the Opera House can go out to tender for the project.
As well as additional performance space, the project will also include refurbishing the administration offices and upgrading catering facilities.
Funding for the full scheme will be considered once tenders have been received and evaluated.
The refurbished facilities will support small-scale performances, dance classes, youth theatre, workshops by visiting dance and drama groups and corporate events.
The performance space will provide facilities for all age groups from five upwards.
Pierre Horsfall, chair of Jersey Opera House, said the new studio would be used throughout the day, which would not only bring the theatre to life, but would provide a new source of income.
"The proposals will transform a redundant, dilapidated building to enable new activities that will provide islanders with a much improved arts and cultural facility," he said.
Culture Minister James Reed has welcomed the Treasury's decision.
"At last the final part of the redevelopment of the Jersey Opera House will be able to go ahead," he said.
"The Opera House is a unique public building and the improvements will help secure the long-term future of this wonderful facility."