St Ouen's Bay camping and motorhome concern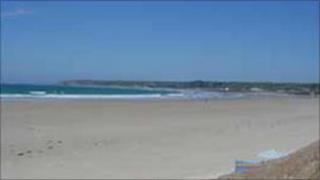 Concerns have been raised on Jersey about people camping at St Ouen's Bay.
The States of Jersey has received complaints that campers and motorhome owners do not always treat the area with respect.
In some cases caravan owners take up three parking spaces and those without toilet facilities use the beach.
Minister for Transport and Technical Services, Mike Jackson, said it might become necessary for the police to prevent people staying.
Teenage parties
Mr Jackson said: "I don't think anyone wants to get too heavy handed in this, it is a lovely area for people to go down and appreciate and no one wants to stop that, but in all these situations a few spoil the enjoyment of many.
"Campers set up tents in the dunes and this is a section where there aren't any toilet facilities which spoils it for everyone."
He also said that the sand dunes were popular with teenagers hosting parties, but in many cases litter was left on the beach.
"The only thing we can do is adhere to the strict laws and not to bend them because sleeping overnight down there isn't in the law and the police will have to look at that," he added.
'It's dangerous'
A local resident who did not want to be identified said: "Every now and then they have parties which get out of hand.
"At one party they took a lot of wood to burn in their bonfire, and there was lots of litter around.
"It's a nuisance for all the other people out there, and it's dangerous."
Constable of St Peter, John Refault said it was important to prevent anti-social behaviour.
He said: "We don't want to have a police presence down here, we want people to be able to enjoy themselves, but at the same time we have to look at ways of stopping people abusing it."