Views wanted on Jersey's Town Park plan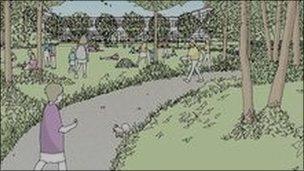 Designers of Jersey's new Town Park wants residents to give their views on the plans.
The company Burns and Nice is producing the plans for Gas Place and designers will be at a number of public displays to hear people's views.
The development forms part of the States' North of Town master plan.
Planned displays include one at the town hall at 1900 BST and at the Welcome Centre by St Thomas' Church from 1000 until 1400 on Friday.
Burns and Nice has been involved in neighbourhood schemes elsewhere, including White Hart Lane in London, close to the home of Tottenham Hotspur Football Club.
Marie Burns from the firm said they wanted opinions because such parks and spaces were needed in urban areas and they wanted as much input as possible.
She said: "Open spaces can been seen as a focus for community activity and interaction, and are also very important as a basis for regeneration."
The plans will also be on display on the site at Gas Place from 1000 until 1400 BST on Saturday.
Related Internet Links
The BBC is not responsible for the content of external sites.