Jersey Airport promotes annual Battle of Flowers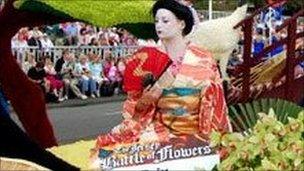 Jersey Airport has been encouraging visitors arriving in the island to attend the Battle of Flowers.
Images from previous winning floats were displayed in the arrivals lounge to give visitors a taste of what to expect.
There was also an exhibition of floral tributes and Miss Battle, Sarah Watson, welcomed people arriving at the airport over the weekend.
The Battle of Flowers attracts about 30,000 spectators each year.
It was first held in 1902 to celebrate the coronation of Kind Edward Vll and Queen Alexandra Jersey.
In the early days floats were mostly horse-drawn and covered in floral decorations.
Flowers would be torn from the floats and thrown to ladies in the crowd.
Organisers said they hoped the airport's promotion would encourage even more people to experience the festival this year.
Related Internet Links
The BBC is not responsible for the content of external sites.