Former senator Stuart Syvret misses third court date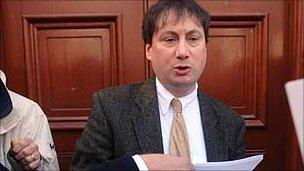 A former States of Jersey senator has again failed to appear in the Magistrate's Court.
It is the third time Stuart Syvret has failed to appear in connection with data protection and motoring charges.
He was excused with a medical note from his doctor, which is valid until 15 August.
The court adjourned the case until then. Meanwhile, a date has been set for trial on the 27 September.
An arrest warrant was issued for Mr Syvret last October when he failed to turn up at an abuse of process hearing into his arrest in connection with the alleged data protection and motoring offences.
The former health minister had "fled" to the UK to seek asylum, claiming he would not get a fair trial in Jersey.
Following a six-month absence, he was automatically stripped of his senatorial seat in the government.
Mr Syvret returned to Jersey when a by-election was announced for his vacant seat, but he was beaten into second place by Francis Le Gresley.
Related Internet Links
The BBC is not responsible for the content of external sites.