Motorists in Jersey are urged to slow down on roads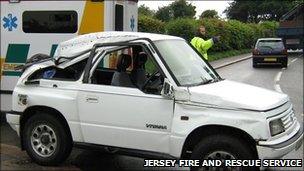 Motorists in Jersey are being urged to slow down following a rise in the number of accidents in recent weeks.
The warning from Jersey Fire and Rescue Service came after a vehicle overturned on Grouville Hill just after 1000 BST.
The driver and her two daughters were treated for shock before being taken to hospital for assessment. One of the girls also suffered minor cuts.
Over the past six weeks fire crews have attended 23 road accidents compared with 47 in the first half of the year.
Marc Le Cornu, Community Fire Safety Manager, said: "We all seem to be in such a rush on the roads, we need to slow down and take more care, especially when the roads are wet.
"Please take the recent spate of accidents as a warning, we don't want to have to pick up the pieces."
Related Internet Links
The BBC is not responsible for the content of external sites.