Rare black stork found with injured wing in Jersey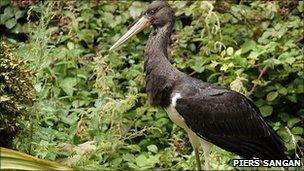 A Jersey vet is caring for a rare bird which was found injured in the north of the island.
The juvenile black stork is thought to have injured its wing in strong winds while migrating.
The wading birds, which are normally found in Scandinavia and Eastern Europe, migrate to Africa near the end of the summer.
The injured bird was found in Mourier Valley on Monday and taken to vet Max Allen.
Mr Allen said sightings of three black storks were reported over the weekend in Guernsey, so the injured bird is probably one of the group.
He believes the stormy weather is almost certainly responsible for the bird's injury as it is extremely rare for black storks to be so far west on their migration route.
It is the first time one has been seen in Jersey since the mid 1990s.
"I can't say with absolutely certainty, but I think this is probably only the second or third ever recorded in Jersey," Mr Allen told BBC News.
The vet said the stork's injury was very severe, with fractures to its radius and ulna.
"I haven't been able to pin it because the fractures are too near the joint and a pin would interfere with it," he said.
Instead, the bird's wing has been put in a splint and Mr Allen will x-ray it again in about 10 days time to determine whether it is healing properly.
The bird is likely to remain in Jersey for another two months to ensure it is strong enough to finish its migration.
"Fortunately it appears to be taking everything in its stride, so to speak," Mr Allen said.
"It's doing well and even started grabbing for food today and molesting staff."
Related Internet Links
The BBC is not responsible for the content of external sites.