Eight people arrested at Jersey Live music festival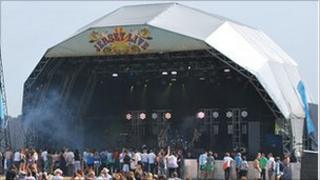 Eight arrests were made during the Jersey Live festival for public order and theft offences, States Police said.
Forty people were also evicted from the site by stewards and four people are being investigated for suspected drugs offences.
Officers said that the two-day event went "very well".
Police said festival staff and stewards worked closely with both States and Honorary Police officers. St John Ambulance staff assisted 168 people.
First aid was given for ailments ranging from cuts and bruises to bee stings.
Acting Superintendent Andre Bonjour, who led the policing operation, said: "In general, the event passed peacefully and without serious incident."
About 10,000 people attended each day of the festival at the Royal Jersey Showground in Trinity to see performances from Paul Weller, Calvin Harris and Kate Nash.