Jersey bus left trapped in hole in road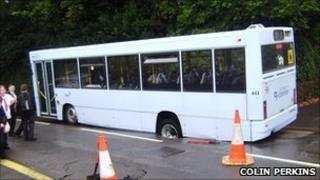 A bus in Jersey has caused traffic problems after getting stuck in a large hole in the road.
It is believed a burst water pipe caused the hole at the junction of St Clement Inner Road with Samares Lane which the Connex bus drove into.
Jersey Waterworks Company is on site investigating, but the entire inner road was expected to remain closed for some time, it said.
All motorists have been asked to avoid the road and find alternative routes.
Traffic heading eastbound is being diverted via Marina Avenue on to the Coast Road.