Man arrested following a fire above New Look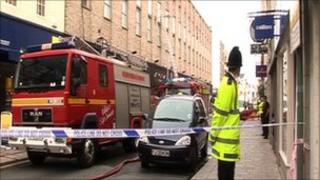 A 60-year-old man has been arrested following a fire in a flat above the New Look store in St Helier, Jersey.
The building, including store, was evacuated and the area outside cordoned off while the emergency services dealt with the fire.
Richard Liron, States of Jersey Fire Service station manager, said the building's fire alarm system provided an early warning.
He confirmed the fire was quickly dealt with and nobody was injured by it.
The man was arrested shortly after the fire started and the police are now investigating.
Multiple 999 calls alerted the fire service to the scene and three fire engines and paramedics were sent out.
Mr Liron said the early alert meant the shop could be evacuated.
"Those who work in those premises should be congratulated on the strength of their fire plans," he added.
Hose lines were laid through the first floor window then up the stairs where firefighters with breathing equipment got into the flat to confirm nobody was trapped.
The rest of the crew put a ladder against the third floor window to provide a second escape route for the search team.
An investigation in to the cause of the fire is currently under way.