Jersey's Ann Street brewery site to be developed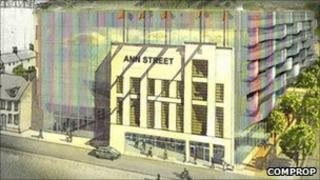 Plans have been unveiled to spend £30 million redeveloping the former Ann Street brewery in Jersey.
Flats, a supermarket and a car park could go there if the States of Jersey Planning Department agree.
The front of the derelict brewery would be kept as a 'wrap around wall' for the car park.
Steve Marie, managing director of developers Comprop said the site would be a significant part of the North of St Helier master plan.
Mr Marie told BBC Jersey: "The former Ann Street Brewery, now a derelict brown field site is significant to the North of St Helier Master Plan, which has been a catalyst for the regeneration of the site.
"As major stakeholders in the area, we want to play our full part in supporting its regeneration."
'Solar electricity'
The proposed 'wrap-around' car parking facility will include dedicated 'green' parking spaces for electric vehicles with access to plug-in charger points.
The building itself could contain a viewing gallery, depicting the former brewery operation, and a walkway.
Mr Marie said development would be "environmentally responsible" throughout the project.
"We will be investigating the use of 'photovoltaic' glass panels in the car park facades which aim to generate and store enough solar electricity to continuously power all of the car park's internal lighting," he said.
"All other car parks in Jersey are permanently artificially lit, so this will be a Jersey 'first'."
The plans will be on display at the Pomme D'Or hotel in St Helier from 1130 BST on Wednesday, 8 September.