Statue of rescue gorilla Jambo up for auction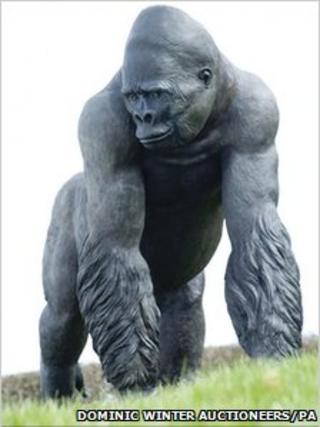 A life-size bronze cast of a gorilla credited with saving a boy's life is to go up for auction in Gloucestershire.
Silverback Jambo guarded the five-year-old boy after he fell into the gorilla area at Jersey's Durrell Park in 1986.
Jambo's act was credited with changing public perception of silverbacks from dangerous beasts to gentle giants.
The statue, by David Cemmick, was expected to sell for at least £20,000 next month. Durrell also has its own statue of Jambo in the park.
Levan Merritt was knocked unconscious after he fell into the enclosure on 31 July 1986.
'Historical importance'
His mother watched as Jambo - Swahili for "hello" - walked towards Levan, sat down beside him and, as if guarding him from the other gorillas, stayed with him and stroked his back until Levan was rescued by the emergency services.
Sculptor David Cemmick visited the zoo in 1987 and made sketches which the statue is based on. He created the bronze cast with mould-maker Sebastian Wylder.
Jambo lived at the zoo until 1992, when he died of a chest haemorrhage.
Nathan Winter from the auctioneers said: "We are thrilled to have such a magnificent and rare sculpture of such historical importance as part of our auction.
"Jambo was renowned for changing the public's perception of gorillas back in the 1980s and this unusual life-size cast is a remarkable original work."
The cast will be auctioned at the auction house near Cirencester on 6 October.