Vehicles damaged in Jersey fire treated as arson attack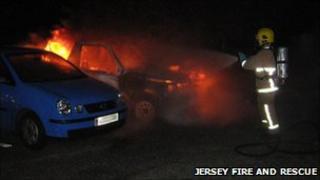 One vehicle has been been destroyed and two others extensively damaged in a suspected arson attack in Jersey.
Police and fire crews were called to the Green Island car park at about 0440 BST where a Suzuki Vitara 4x4 was found alight. It was gutted in the fire.
Strong winds fanned the flames, and the intensity of the fire set two further cars alight, one on either side of the 4x4, the fire service said.
States Police are investigating the fire and treating it as deliberate.