Skipper 'asleep before Jersey fishing boat sank'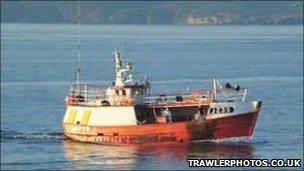 A Jersey fishing boat sank after the skipper fell asleep when he should have been on watch, says a report into the incident.
The Marine Accident Investigation Branch (MAIB) report follows the sinking of Jersey crabber Kerloch off the coast of Wales in February.
The report says if the crew had taken the rest required by UK guidelines the boat may not have been lost.
The four crewmen, who got into a life raft, were rescued by a fishing boat.
The report also found problems with the crew's safety training certificates.
The Kerloch, with four crew aboard, was returning to Milford Haven on 20 February when she ran aground at Crow Rock and rapidly sank.
In the week before the accident, the crew had been working up to 18 hour shifts while fishing the grounds off Lundy Island, said the report.
But as the Kerloch was a Jersey-registered boat, the crew did not have to comply with the UK regulations for fishing boats.
The report said Jersey's main fishing safety regulation, introduced in 2004, was based on the UK's Fishing Vessels Rules of 1975 and had not been updated.
It recommended that the States bring the regulations in line with current UK standards.
Related Internet Links
The BBC is not responsible for the content of external sites.