Jersey deputy wants private schools funding cut rethink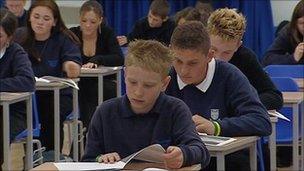 If funding for Jersey's private schools is cut, some pupils could be forced to change schools, a politician has said.
Deputy Kevin Lewis is asking the Education Minister James Reed not to withdraw the subsidies.
He said if the move went ahead, there would be an "inevitable" increase in fees which some parents could not afford.
All departments have been asked to make 10% efficiency savings as part of the States Comprehensive Spending Review.
The Council of Ministers has agreed to £50m worth of public spending cuts over the next three years.
Education is considering a 2% cut in subsidies to private schools which could save £200,000.
Mr Lewis said if cuts have to be made, they should be introduced more gradually so pupils do not facing having to suddenly change schools.
In August a scrutiny review panel also recommended cutting a £33,000 annual payment to Durrell Wildlife Conservation Trust which pays for free entry and teaching time for Jersey schools.
Related Internet Links
The BBC is not responsible for the content of external sites.