Review says 'no conspiracy' to oust Jersey police chief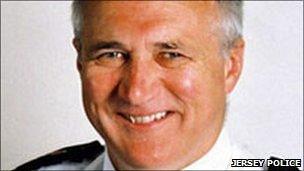 No evidence of a conspiracy to oust Jersey's former police chief has been found, a review has concluded.
Graham Power was suspended in November 2008 by former Home Affairs Minister Andrew Lewis, based on his handling of the historic child abuse inquiry.
A report by Brian Napier QC said he found no evidence senior officials had conspired to have Mr Power suspended.
However the review said the suspension was mishandled.
Mr Napier, an expert on employment law, said officials, including Chief Minister Frank Walker and Chief Executive Bill Ogley, had been too ready to accept "relatively weak" evidence about how the abuse inquiry was handled.
His report said: "The basis on which [Mr Power] was suspended on 12 November 2008 was in my view inadequate.
"There was at the time a lack of hard evidence against him showing lack of competence in relation to the running of the historic abuse enquiry.
"Too much reliance was placed on information coming from one source, Mr David Warcup."
Mr Warcup, the Deputy Chief Officer, had been in "an extraordinarily difficult situation", Mr Napier said.
"He had to choose between acting in accordance with his personal integrity and his understanding of his professional standards, and his duties of allegiance and loyalty to his commanding officer."
Although Mr Napier disagreed with some of Mr Warcup's decisions, he did not question his motivation or integrity.
"In my view he was genuinely concerned to do the right thing," he said.
He highlighted the fact that the first draft of Mr Power's suspension letter was written even before the Metropolitan Police interim report into the handling of the abuse inquiry was received.
Mr Napier said the need to remove Mr Power from operational control while a preliminary investigation was undertaken could have been achieved by means other than suspension.
This could have included a voluntary standing down or special leave, but no such options were ever explored, he said.
Although there may have been "legitimate and reasonable" concerns about Mr Power's performance, the making of decisions, from a procedural point of view, were "unfair" to Mr Power.
Despite the mistake, Mr Napier concluded there was no need for any further investigation into the matter.
The Chief Minister said he would be taking advice on the report's conclusions before deciding what actions would be taken.
Senator Terry Le Sueur said: "While he has highlighted procedural failings in the suspension process, Mr Napier found no evidence of a conspiracy to oust Mr Power for some improper reason and I hope this allegation can now be put to rest.
"As was the case throughout Mr Power's suspension, I intend to maintain confidentiality on this matter, and will ensure any individuals involved are treated with respect.
"I will not be making any further statement on the conclusions of the report until all internal matters have been concluded."
The review was commissioned after concerns were raised about the way Mr Power was disciplined. He retired earlier this year and no disciplinary action was taken.
Mr Power has always denied any wrongdoing.
Related Internet Links
The BBC is not responsible for the content of external sites.