Jersey Post mammoth stamps mark archaeological history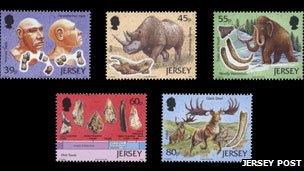 Jersey's archaeological importance has been marked with a new series of stamps.
Jersey Post said the island is renowned for its natural beauty, but it is also home to one of Europe's most important archaeological sites.
The stamp issue shows the granite ravine at La Cotte de St Brelade where excavations began 100 years ago.
Woolly mammoth and woolly rhino remains - more than a quarter of a million years old - have been found there.
Dr Paul Pettitt, a senior lecturer in Palaeolithic Archaeology at Sheffield University, has written a narrative to accompany the stamp series.
He said: "The collapsed site of La Cotte is world famous for the archaeology and palaeontology that it contained," he said.
Dr Pettitt said Jersey became connected to the west of France during the Ice Age, when water was locked up at the poles as ice and sea levels were low.
"At the beginnings and ends of these cold periods, archaic humans - Neanderthals - operated on what is now an island," he said.
"At the time, La Cotte would have formed a highly-visible outcrop overlooking a coastal plain rich in the resources critical for the survival of Neanderthal hunters."
Dr Pettitt said it is uncertain whether the mammoths and woolly rhinos fell from the plateau above the cave or whether Neanderthal hunters drove them over the edge of the cliff deliberately.
Some of the artefacts from La Cotte are on display at the Jersey Museum and also at La Hougue Bie.
Some of the most significant findings have been recreated on the stamp issue by artist Nick Shewring.
They include human teeth, the skull of a woolly rhinoceros, mammoth tusks and a tooth, flint tools and the antler of a giant deer.
The archaeology stamp issue is available at Jersey Post's Philatelic Bureau or online.
Related Internet Links
The BBC is not responsible for the content of external sites.