Jersey States targets pay in £31m cuts plan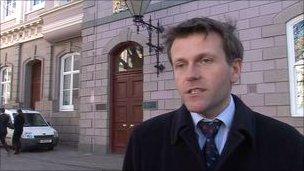 States pay could be frozen and cuts to overtime, pensions and sick pay are being proposed.
The States of Jersey has identified an additional £31m of cuts on top of the £12m already earmarked.
They will affect more than 6,500 islanders and will see a major change in the way The States employ people.
A series of reports written by steering groups of chief officers and members of the public are recommending a range of efficiency savings.
They could include the merging of the fire and rescue and ambulance services, closing the young offenders institute at the prison and stopping non-emergency treatment at A&E.
In addition a pay freeze for States employees in 2012/2013 would save £6.9 million and reducing overtime payments could see a further saving of £2.5 million.
Jersey's Chief Minister, Senator Terry Le Sueur told BBC Jersey the cuts were targeted.
Senator Le Sueur said: "We're talking primarily things like rates of pay, allowances, sickness arrangements, pension arrangements.
"A whole range of things of that nature that are generic to the whole organisation."
Ministers will publish their budget proposals and plans to raise taxes at the end of the month.
Related Internet Links
The BBC is not responsible for the content of external sites.