Four fewer senators in Jersey parliament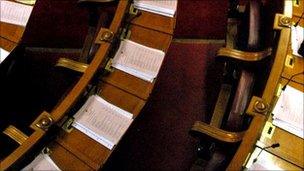 Jersey politicians have agreed to major changes in the way they are elected.
Changes include one general election day to be held in the spring and reducing the number of senators to eight from 12.
The term of office for senators will also be reduced from six to four years.
The chairman of the committee which brought the reforms before the States, Constable Juliette Gallichan, said they were important changes to make.
Constable Gallichan told States members: "The longest journey must start with a single step but even the longest journey has to end. I say that now is the time to stop walking."
Members will be debating changes to the whole ministerial system when they meet next week.
Related Internet Links
The BBC is not responsible for the content of external sites.