Common shags in Jersey suffer 'catastrophic decline'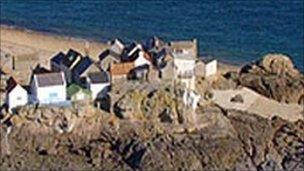 Mammals on Jersey's north coast could be killed as part of an attempt to halt the decline of a seabird species.
In a draft environment report, the States of Jersey said the common shag was in "catastrophic decline".
It said rats, feral cats and ferrets were affecting the population and may need to be "eradicated".
It also said marine food stocks were in decline following a rise in the sea's temperature. The report will now go to public consultation.
Common shags are found on Jersey's cliff tops, especially on the north coast and Les Ecrehous.
John Pinel, head of the natural environment team, said: "There are a number of feral cats out there in Jersey and it seems to be an increasing problem.
"We need to have a look at the scale of the population and once we've got better data we need to look at some control measures if it shows they are a problem.
"Eradication isn't a word we'd necessarily follow through, but certainly to control their numbers on the areas where they are having an effect."
Mr Pinel said that the department was also looking at encouraging people to follow codes of conduct and implementing "no go" areas on the island so that nesting birds were not disturbed.
Related Internet Links
The BBC is not responsible for the content of external sites.