Former Jersey senator Syvret guilty of motoring charges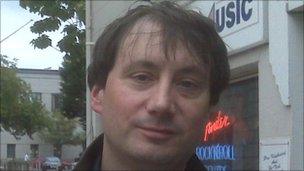 The former Jersey senator Stuart Syvret has been found guilty of motoring offences.
Counts of driving without a licence and failure to register a change of address were proven at Jersey Magistrate's Court. He will be sentenced at a later date.
Earlier Magistrate Bridget Shaw dismissed Syvret's claims of an abuse of process.
She said he had failed to prove he could not receive a fair trial.
Mr Syvret has also been charged with with publishing a confidential police report which contained personal data on his internet blog.
With regards to a police search of the former senator's home, Ms Shaw said more efforts should have been made to obtain a search warrant under the Data Protection Law.
She concluded, however, there was no malice on the part of the police and that the proceedings were honestly held.
The trial has been adjourned until 1 November.
Related Internet Links
The BBC is not responsible for the content of external sites.