Vulnerable people in Jersey urged to have flu jabs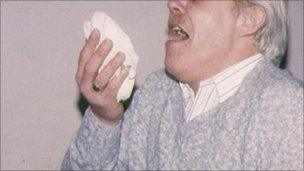 Vulnerable people in Jersey have been reminded to be vaccinated against the flu virus.
Flu is a viral infection which is spread by tiny particles being sneezed or coughed into the air, or by touching contaminated objects.
It is more likely to cause serious respiratory problems to the elderly, pregnant women and those with certain medical conditions.
Vaccines provide up to 80% protection against circulating flu strains.
The States of Jersey Health Department said people who were vaccinated had a significantly reduced risk of developing pneumonia.
Microbiologist Dr Ivan Muscat said: "Flu is spread by sneezing, coughing and contact with the virus on surfaces.
"It is important that people wash their hands regularly and use tissues when sneezing or coughing and disposing of them afterwards to reduce the spread of flu and other respiratory infections."
Many GP practices in Jersey are putting put on flu vaccination clinics and islanders are advised to telephone their surgery for further information if they could be at risk.
This includes everyone over the age of 65, those with lung disease (such as asthma), heart disease, kidney disease, liver disease or diabetes.
People who have suffered strokes, or those with multiple sclerosis, cerebral palsy or anyone with a lowered immunity or problems with their spleen should also be vaccinated.
As the vaccine is grown in eggs, those with a severe egg allergy should not be immunized.
The majority of people who do catch flu recover fully in about a week.
To treat the symptoms people should stay warm, rest, take paracetamol and drink plenty of water to avoid dehydration.
Related Internet Links
The BBC is not responsible for the content of external sites.