Jersey fish sales down in October during Tennerfest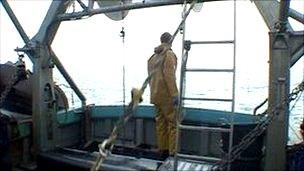 Jersey fishermen could lose out during a restaurant promotion event in the island, it has been claimed.
Sales of locally caught fish reach a yearly low during the Tennerfest period.
The initiative, now in its 13th year, gives islanders the chance to enjoy meals at discounted menu prices.
But while it often means more customers for local restaurants, Jersey's maritime industry is losing out with local sales of crabs and lobster down.
Don Thompson, of the Jersey Fisherman Association, said it was not easy to explain the discrepancy.
"It's unfortunate because as more people are eating out, one would expect to see increased sales of local fish at that time."
Head waiter at the Oyster box Patrick Tweedie says that although they do their best to source all their produce locally, fishermen sometimes do not stock the quantities needed.
"Unfortunately there are certain types of fish and certain breeds that are from around these waters and some that aren't.
"You have to be careful what you choose in the menu and also it's the time of year," said Tweedie.
Related Internet Links
The BBC is not responsible for the content of external sites.