Call for help tracing Jersey-born Titanic seaman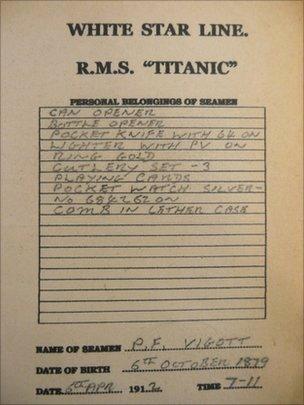 Relatives of a Jersey man who survived the sinking of the Titanic have been asked to come forward and tell his story.
A woman in the UK has sent study group the Societe Jersiaise the man's list of personal possessions.
The name on the card is Philip, with the surname Vigott, although it is possible that could be a misspelling from the French name Vigot.
What is certain is that he was a crew member on the doomed liner.
When he signed on he had to list his possessions on a special form, and it is that form which the society has been sent by a woman called Mrs Collins in the UK.
Researchers have been unable to trace Mrs Collins as she gave no address, and there is currently no record of any family called Vigott or Vigot on the island.
Anna Baghiani, the society's librarian, said the form came in a small envelope from England, and was "a double side of the personal belonging of a seaman".
"It's got personal items belonging to him listed which are rather odd. Because of where it comes from it is actually interesting - it says on the top White Star Line, RMS Titanic."
Researchers have been able to discover that Mr Vigott came from St Mary in Jersey, but are not sure what happened to him next.
Ms Baghiani said: "It was quite common in Jersey families for sons of Jersey farmers to take on naval or seaman professions, which is obviously something Mr Vigott did.
"It would be interesting to see if any of the siblings, male ones, became crew members or went to sea.
"We know there is nobody listed under the name of Vigott which makes one wonder whether there are no male lines left or whether they are ex-directory."
Anna Baghiani is hoping somebody will be able to get in touch who knows Mrs Collins so they can say thank you and hopefully find out more about Mr Vigott.
She said: "Unfortunately the lady who gave us this has written a note and put no address on it or clue to her first name.
"She mentions there is a connection to Mr Vigott through a cousin, but the cousin died earlier this year and she has come into this document.
"She has put a PS at the bottom saying 'sorry about the writing but I'm old'. It is such a shame we can't thank her for this document."
They ask anyone with information to get in touch with the society.
Related Internet Links
The BBC is not responsible for the content of external sites.