Jersey States plan to introduce taxi driver age limit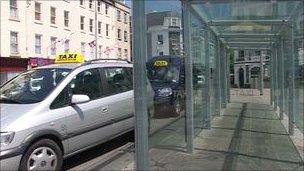 There could be an age limit put on being a taxi driver in Jersey.
Jersey's Transport Minister said the States was looking at improving the island's taxi service and this was one possible change.
Constable Mike Jackson said some taxi drivers did not like working late shifts because of their age.
But John Sidebottom, of the Taxi Drivers' Association, said there was no need for an age limit and it was difficult to know drivers' ages.
Constable Jackson said it would not affect existing drivers.
He said: "Those existing drivers it will have no effect on, but I think for those taking up plates in the future we'll have an age limit."
Mr Sidebottom told BBC Jersey: "We cover the busy periods and you can take a break during the day or afternoons or mid-mornings which we do. We take plenty of breaks and that is not a problem."
Related Internet Links
The BBC is not responsible for the content of external sites.