Jersey inflation rate down 0.7% since June 2010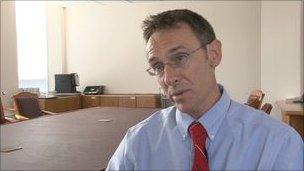 Inflation in Jersey has fallen by less than 1% since June 2010.
The Retail Price Index in Jersey was 2.8% in June 2010 and dropped to 2.1% in September.
Duncan Gibaut compiles the Retail Price Index and said it is difficult to pinpoint exactly what is making the difference.
But it is thought the fall came about because the cost of heating and fuel rose less quickly than was originally anticipated.
Mr Gibaut said: "The fuel and light group was going up by 10% over the year to June, we're now seeing it going up by 6% over the year to September.
"In that fuel and lighting group, what we're driven by is the domestic heating oil prices going up by 29% over the year.
"That more than counter balanced the 5% fall in electricity prices we saw in January."
The Jersey statistics unit split the island's RPI into two, measuring with and without the cost of mortgages in the island.
When the cost of mortgages are excluded from the RPI figure then inflation is at its lowest point in ten years.
Related Internet Links
The BBC is not responsible for the content of external sites.