Jersey Employment Trusts site to be redeveloped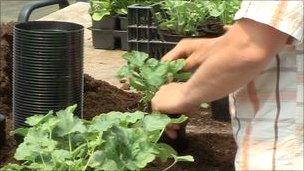 Plans to redevelop the Jersey Employment Trusts facilities at Howard Davis farm have been revealed.
The trust helps people with disabilities into work by giving them training and work experience.
More than 250 islanders with disabilities are helped and given support by the trust every year.
But manager Steven Pearce said its premises at Howard Davis Farm, Acorn Enterprises, were in need of repair and redevelopment.
The plans would see the development of training rooms, workshops and a small shop selling bedding plants.
Mr Pearce said money that was put aside to move the animal carcass incinerator from Howard Davis Farm would now be spent upgrading its building.
The Jersey Employment Trust is also looking to extend its lease on the site for another 25 years.
Related Internet Links
The BBC is not responsible for the content of external sites.