Concerns over application for St John kart track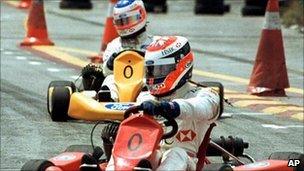 An emergency meeting has been called in St John amid concerns that plans for a permanent kart track at the Ronez loop road may see its use increased.
The Jersey Kart and Motor Club has raced for 12 years at the site.
A new permanent site would leave the loop road closed.
St John constable Graeme Butcher has called a parish meeting with the club president Robin Troy to answer the worries.
Mr Troy said: "In the application that we are making we have included a vehicular access to the headland for the turning point at the request of the constable.
"So parishioners and islanders do not lose the benefit of being able to drive to the headland and enjoy the view."
Mr Troy said the permanent track would mean they could hold shorter race meetings as they could move training sessions to school holidays.
Constable Butcher said he felt the road might not need to be closed.
He said: "My personal view is that a better track can be achieved there by some realignment but it might not necessarily need to close the road to the public for the rest of the year."
Related Internet Links
The BBC is not responsible for the content of external sites.