'Hazardous' chemical drum found on Jersey beach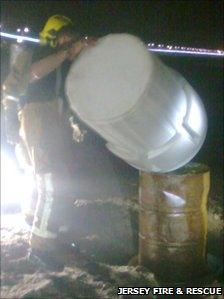 Emergency crews have removed a "potentially hazardous" chemical drum washed up on a Jersey beach, in an operation taking about two-and-a-half hours.
The drum was spotted by a walker in St Aubin's Bay at First Tower, St Helier, on Wednesday evening.
The fire service sealed the drum with putty and a bigger "jam-jar" container.
The team had to work quickly and could not use traditional methods because of a rapidly rising tide.
Firemen, wearing breathing apparatus, dug a hole in the sand and turned the barrel over into the larger container.
It was then rolled off the beach to be disposed of by the island's transport and technical services department.
Clive Russell, from Jersey Fire and Rescue Service, said: "The responding police officer was unable to identify the contents but was immediately aware of the potential pollution and hazardous material threat.
"Containers washed up on the shore present significant problems and this one was no different.
"They have very few markings on them, the containers are often severely damaged, they are heavy and dangerous to man handle when the contents are unknown.
"The decision to not leave the barrel recovery until the next day was prompted by the potential for the rising tide to move the object and [the] contents to spill out."
The authorities have not confirmed what was in the drum.
Related Internet Links
The BBC is not responsible for the content of external sites.