Bid to protect Jersey Cream name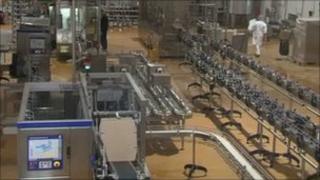 A group of 27 farmers from Jersey is to apply for special protection for the Jersey Cream brand name.
Currently, cream produced by Jersey cows anywhere in the world can be marketed as Jersey Cream.
But the farmers from the Jersey Dairy co-operative are calling for Protected Designation of Origin status with the European Commission.
It would mean only cream produced in the island could be sold and branded as Jersey Cream.
Farmers in Jersey have already applied for similar protection for Jersey Butter.
'Unique Environment'
Christopher Journeaux, marketing director for Jersey Dairy, said: "Local people are rightly proud of the Jersey cow and the products made from her milk and cream.
"Jersey cows are renowned for the quality of their milk but the ones over here enjoy a longer grazing period, from February to early November, than their cousins on British mainland soil.
"We believe that it is this long period on grass combined with the unique environment of Jersey with its long hours of sunshine and sea air makes our dairy products so sought after.
"We are already seeking protected designation of origin status for our butter and now intend to make a further application for our cream."
If approved, it would work in a similar way to Feta Cheese, Parma Ham and Champagne - all of which can only be given those names if produced where they originate from.