Jersey shopper pays £5 more because of resting breasts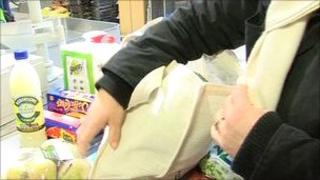 A woman was overcharged while buying fruit and vegetables from a Jersey supermarket - because the shop assistant's breasts were resting on the scales.
Jim Hopley, chief executive of Channel Islands Co-operative, said the assistant's seat had been too low.
Mr Hopley said this had caused the shopper to be accidentally charged an extra £5, which had now been refunded.
He said they had taken action to make sure it did not happen again.
Mr Hopley said he had felt the need to deal with the issue himself.
He said: "The way I considered this was as an operational issue, I should have put my operational people out to deal with it, I even thought about my security people.
"At the end of the day I decided that I'm the most politically correct individual in the business, some of my girls in the office might laugh at that, but it is true so I decided to handle the matter myself."
He said it had all been dealt with quickly and that he felt sorry for the woman on the checkout.
Mr Hopley told BBC Jersey: "It was resolved instantly, I feel very sorry for the individual involved, she mustn't be embarrassed.
"It was an unfortunate incident. The poor lady involved was totally mortified, but the customer rightly was concerned about it.
"We are obliged under weights and measures law to ensure that things are appropriately weighed when they pass across these scales."