Haut de la Garenne man denies 'whacking' boy in Jersey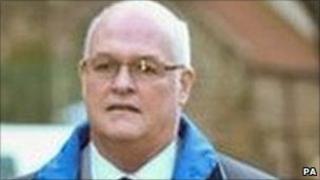 An ex-policeman has denied hitting children in his care at the former Jersey children's home, Haut de la Garenne, a court has heard.
Anthony Jordan, of Kirriemuir, Angus, Scotland, has pleaded not guilty to 12 counts of common assault on two boys at the home in the 1970s and 80s.
The 62-year-old is accused of punching them and striking one with a shoe.
He told the Royal Court that he had no training in caring for children and that he had "learnt on the job".
Sue Pearman, defending Mr Jordan, told the jury that he was alleged to have "whacked" one of the boys around the head with a shoe.
However, Mr Jordan said: "I didn't whack him."
He told the court he had touched the boy on the head with a shoe but it was more of a "fun thing".
The court in St Helier heard that Mr Jordan worked at the home from 1979 until 1984 and that he was a police officer before he began working there.
Mr Jordan and his wife, Morag, are charged with a total of 41 counts of common assault on nine children at the home where they were house parents.
They deny all the charges and the trial continues.