Call to allow Jersey wreaths at UK Cenotaph service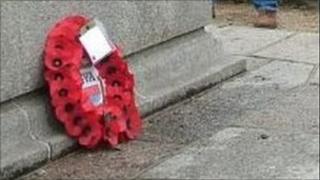 Wreaths from the Channel Islands and the Isle of Man should be laid at the Cenotaph in the UK on Remembrance Sunday, says a Conservative MP.
Wreaths are laid in London every year by the Royal family, UK politicians and 47 Commonwealth High Commissioners.
Next year the Crown Dependencies should also be able to lay wreaths "like other countries in the Commonwealth", Andrew Rosindell told the House of Commons.
Jersey's British Legion say the move would be welcomed but not necessary.
Legion chairman Ken Soar said: "We in Jersey recognise our dead and that to us is the most important thing.
"It's never occurred to us to go over there to lay a wreath, we have our own ceremony in Jersey which is equally poignant."
But Mr Rosindell, a supporter of the Crown Dependencies, said the "issue must be addressed" so next year Jersey, Guernsey and the Isle of Man can lay wreaths at the UK ceremony.