Jersey students should learn more about local politics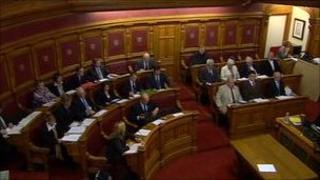 A panel of politicians wants everyone who applies for social security to get an information pack about Jersey's politics and history.
The scrutiny panel have been looking into how people are taught about politics in the island.
Jersey's 16-year-olds were given the right to vote in 2007.
The panel said the States could be doing more to reach out to teenagers, including setting up profiles on social networking sites.
In its investigation, the panel found that students at schools which had entrance exams were more interested in local politics.
It is recommending that the States arrange student hustings at a time when they can attend, and that a group manages all visits of politicians to schools.
It is also suggesting when people first register at social security they should get an information pack on Jersey's political system and culture.
Deputy Roy Le Herrissier was the politician leading the panel and said it was time to look at the issue.
He said: "There needs to be an emphasis of getting the students involved and we certainly found good examples of that."
But Deputy Le Herrissier said it was an uphill struggle to convince 16-year-olds to go out and vote.
He said: "We want to make sure that when people leave school in Jersey they have the right foundation and a willingness to engage with issues."