Jersey's regulator calls for cheaper school uniforms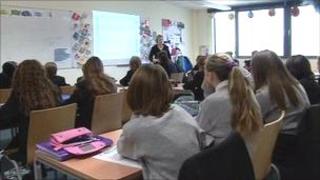 Jersey's competition watchdog wants to make school uniforms cheaper.
The Jersey Competition Regulatory Authority (JCRA) wants to stop agreements that give shops exclusivity to supply a certain uniform.
The new guidelines could help parents in Jersey get the best deals when buying school uniform.
The JCRA said exclusive agreements between schools and a single supplier are often not the best option for parents.
Over the next year, schools are being asked to look more closely at how their uniforms are sold and whether they provide the best value.
The JCRA said this could result in cheaper school uniforms, but it is up to the individual schools to consider possible changes.
John Curran, executive director of the JCRA, said : "Hopefully in the longer run it will result in lower costs for school uniforms, that is what you hope it will achieve.
"It is still going to be down to the individual schools over the course of the next year to look at how their current arrangements work and whether or not there are opportunities to have lower cost school uniforms."