Education minister questions need for school closure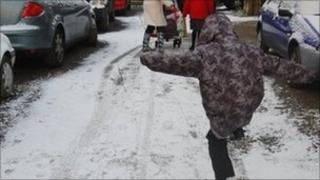 Jersey's education minister has questioned why schools had to close in the wintry weather.
Deputy James Reed said it was ironic the government was deciding on a transport policy at the same time schools were shutting early.
He urged the transport minister to look into why more provision is not available for school transport.
The minister said it was a poor indictment of Jersey if everything closes every time it snows.
Jersey Met Office have issued a warning and urged people to be careful on the roads.
The wintry weather around the island also meant all schools in Jersey closed early and a number of events, clubs and travel services were cancelled or postponed.
Education spokesman Keith Posner told BBC Jersey a decision will be made about tomorrow's school-day at about 0630 GMT.
Flights to snowbound Gatwick Airport from Jersey were also cancelled and other passengers faced long delays.
The closure of Gatwick has led operators British Airways and Flybe to cancel all flights to the airport from Jersey.
Jersey Airport remains open, though some flights have been delayed.
Alan Donald, Jersey airport spokesman, said people travelling in the next 24 hours should contact their airline.