Jersey's Christmas festival launch cancelled after snow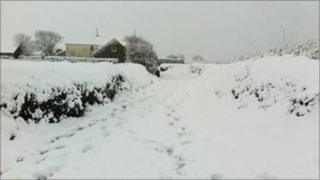 The launch of Jersey's Christmas festival, the Fete De Noue, has been cancelled because of the snow.
It was due to take place in West Centre, St Helier, with the switching on of the Christmas lights by Miss Jersey Battle of Flowers at 1730 GMT.
The lights will still be switched on but without a ceremony.
Wintry weather around Jersey caused closures, cancellations, and delays with schools and the airport closing for the day.
The airport's runway has been closed for the rest of the day after further snowfall.
All flights are cancelled and affected passengers are advised to contact their airline. Gatwick Airport is also due to stay closed until 0600 GMT on Friday.
All of Jersey's schools have been closed for the day because of snow and ice on the island's roads.
Gritters were out clearing roads at 0200 GMT and gritters in St Helier are clearing pavements in the town.
Jersey's Met Office is forecasting more snow for later.