Jersey Airport says passengers should not wrap presents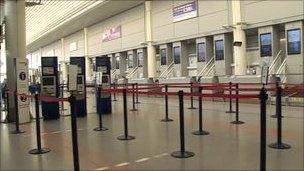 Jersey Airport has warned passengers not to wrap their presents before they fly over the Christmas period.
The airport has issued the guidance after confiscating gift-wrapped items at the departure point.
Presents carried in hand luggage are examined as part of security checks and if they cannot be unwrapped they can be thrown away by airport staff.
Jersey Airport is telling its customers to check wrapped goods into their hold luggage.
Steve Read, the airport's terminal and security manager, said it was understandable that people were travelling with a higher than usual number of items at this time of year.
But he said the same strict security measurements apply, that objects should be unwrapped and under 100ml in any carry on luggage.
He also warned that Christmas crackers were not allowed to be carried at all by some airlines.
Mr Read said they only screened items they could not identify.
He said: "We screen all items and if we can't identify that we will ask passengers to unwrap their presents.
"This is unfortunate if they have spent a great deal of time, money and effort putting it there in the first place.
"Obviously a pair of socks wouldn't be identified when we screen it as a liquid, it is when we can't identify something.
"Liquids, gels, pastes, those sort of things, we can't identify what they are by the x-ray screen, this is why we do a hand screen when they go through the airport."
Related Internet Links
The BBC is not responsible for the content of external sites.