Jersey politicians reject a call for a 3% freeze in GST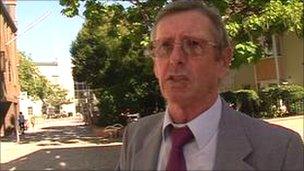 Jersey's politicians have rejected a budget amendment to freeze the goods and services tax (GST) at 3% for 12 months.
Politicians rejected the amendment to the budget with 22 voting in favour and 29 against.
At the end of the eight hour debate, Deputy Southern said raising GST to 5% would increase family tax bills.
He said: "Do we want to raise the average family's tax bill by of the order £900 straight away?"
Deputy Southern added: "That is what the proposition to raise GST by 2% to 5% actually means for the people out there."
Members voted for a change by Constable Simon Crowcroft to the amendment calling for that freeze to be for six months instead of 12, that was won 29 votes for to 22 against.
Treasury Minister, Senator Philip Ozouf, appealed to members not to change the budget plan he has put forward, which would raise GST to 5% from June 2011.
He said: "The world is slowly emerging from what the history books will call the great recession.
"We have heard a number of countries have suffered significant financial problems and many face unquestionable deficits in their public finances.
"Whilst we have not been as dramatically affected as some, the recession has left us with a deficit.
"The decisions that we are now called to make need to inspire trust and confidence and need to deal with this deficit."
Members will continue the budget debate on Thursday where they will debate an amendment by Deputy Green asking for exemptions from GST for food and fuel.
Related Internet Links
The BBC is not responsible for the content of external sites.