British Irish Council forum 'strengthens relationships'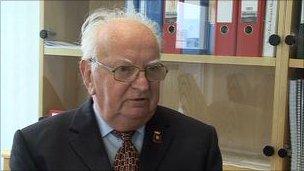 Jersey's chief minister has said an international forum in the Isle of Man has helped Jersey strengthen its relationships with other countries.
Senator Terry Le Sueur has been discussing the economy and the internet as part of the British Irish Council Summit meeting.
It is the only forum which includes UK, Irish and crown dependency governments.
It was set up after the Good Friday agreement for members to discuss issues of common interest.
Senator Le Sueur said Jersey gains the ability to participate on an equal level with leaders of larger members of the British Irish Council.
He said: "We're building, over a number of years now, a good working relationship and a better understanding of how we can work together."
Jersey's Chief Minister Senator Terry le Sueur said Jersey was expected to contribute to the council.
He said: "Jersey will participate and from time to time provide administrative support, as we should do as a full participant of the British Irish Council.
"The contribution we are expected to make is 4.5% of the overall budget, which is a relatively small percentage for the benefit we get in participating in a body of that nature."
Senator Le Sueur said the different countries shared their strategies for the future of their economies at the meeting.
He said: "They were all in very much the same mind, that we have to continue to deliver economic confidence in order to get the growth we need to help ease the pain of recession."
Related Internet Links
The BBC is not responsible for the content of external sites.