Fewer people Christmas shopping in Jersey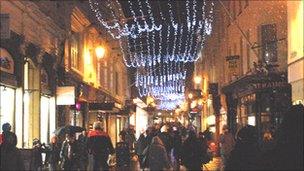 The number of people shopping in Jersey's town centre was down by 21,000 last week, 10% lower than the same week in 2009.
Town centre manager, Richard Mackenzie, said they were still expecting shoppers to buy at the last minute.
He said they were expecting numbers to be down slightly this year because Christmas Day is on a Saturday.
St Helier measures the number of people who come into the town during the Christmas shopping season.
But he said traditionally Jersey people do their shopping later than those in the UK.
He said they were expecting the number of shoppers to go up in the last week before Christmas.
Related Internet Links
The BBC is not responsible for the content of external sites.