No Christmas adoptions at Jersey's animal shelter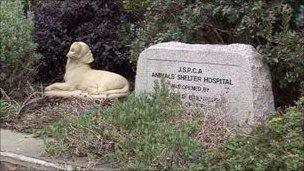 Jersey's animal shelter has stopped offering animals for adoption over the Christmas period.
The decision was made to dissuade people from giving pets for Christmas which may be unwanted later.
The shelter has already re-homed more than 800 animals this year, including over 100 cats in the past three months.
Maj Steve Coleman from the shelter said that was due to some irresponsible breeding of cats which resulted in the market being saturated.
He said the shelter's facilities were almost at capacity.
Maj Coleman said not offering animals over Christmas was standard practice and that adoptions would start again in the new year.
He said one particular dog had been abandoned because the owners did not realise the work they would have to put in to train him.
"He was bought as a young puppy quite expensively and the owners didn't appreciate he was going to take a lot of time and effort to become a well behaved dog," he said.
"It is often something we see sadly, people spend a lot of money on pedigree animals not realising they don't become wonderful animals, you have to train them."
Related Internet Links
The BBC is not responsible for the content of external sites.