Snowfall closes Jersey Airport's runway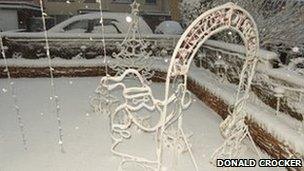 Jersey Airport has been closed until Monday because of snow.
The airport said the runway would be closed until at least 0545 GMT and passengers have been told to contact their airline for details.
Airport officials had hoped to reopen the runway several times on Sunday afternoon, but decided they could not.
The police advised islanders not to travel on the roads unless necessary and most bus services were cancelled on Sunday.
The closing of the airport on Sunday was the second day of flight delays and cancellations because of snow.
Many services at churches in Jersey were postponed on Sunday morning.
Cold conditions were set to continue on Monday, Jersey Met said, after overnight temperatures of between 0C and 3C.
Wintry showers were also possible, as well as icy surfaces and further rain, sleet or snow by the morning, it added.
Related Internet Links
The BBC is not responsible for the content of external sites.