Jersey cliff fall driver not badly hurt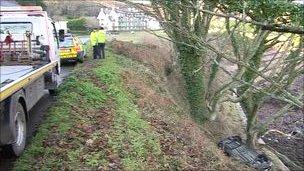 A car has gone over a cliff near Archirondel, in St Martin, after skidding on ice on the road.
Police said the driver had very slight injuries and was able to walk away after the crash, which happened in the early hours.
There was no-one else in the car, which skidded on ice as it was being driven from St Catherine towards Gorey, Duty Inspector Harry Carre said.
The car landed on a grass verge near the beach at Archirondel.
Related Internet Links
The BBC is not responsible for the content of external sites.